In this post, I've provided details about creating a Baby Crochet Cap using Loop Yarn. I've called it a Crochet Cap since I used a Crochet Hook for the process, although knowing how to crochet isn't essential for making this cap.
You can effortlessly create this cap even without knowing how to crochet, and the final result will be fantastic. Loop yarn allows you to make caps for men, women, and children alike.
I have included video tutorials related to making the Baby Crochet Cap. If you face any difficulties, you can find solutions to your problems through these instructional videos.
What is loop yarn?
The cap I've shared with you today is crocheted using Loop Boucle Yarn. Loop Yarn is a special type of yarn with pre-formed loops. These loops come in two variations: one with small loops, which necessitates the use of a Crochet Hook for knitting.
The other type of yarn features larger loops, making the knitting process very straightforward. You can fashion items with this yarn using just your fingers. We also refer to this as finger-knitting yarn or finger-looping yarn.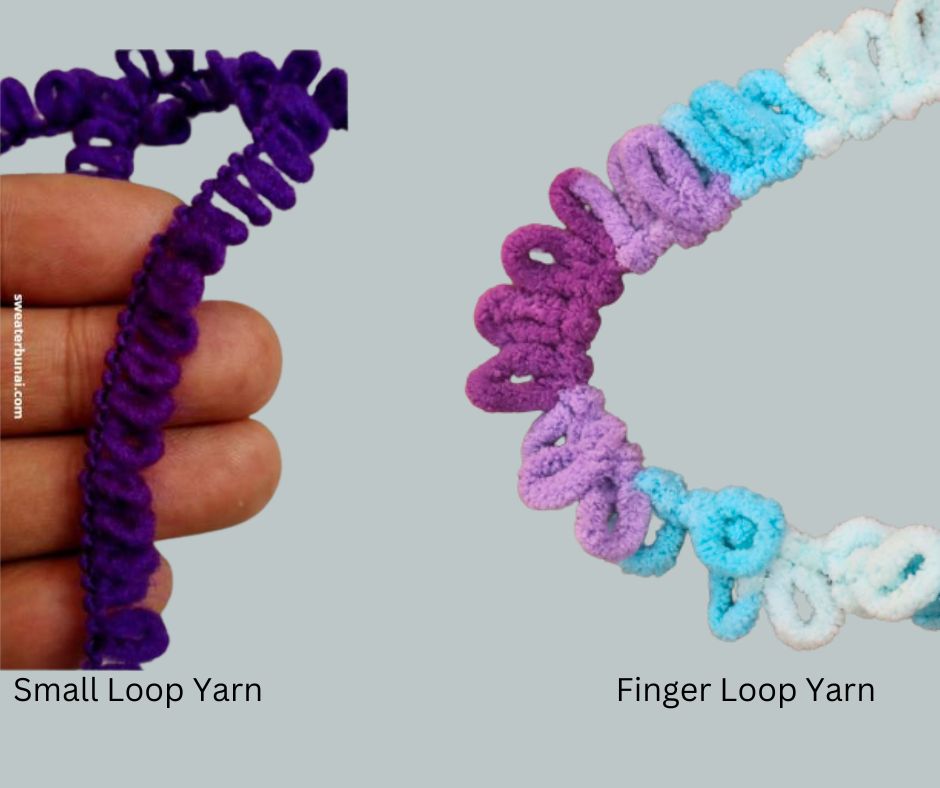 Loop yarn projects for beginners
Using loop yarn, you can craft a wide range of items suitable for all age groups. This includes caps, phone covers, ladies' scarves, men's mufflers, baby blankets, purses, pillow covers, cushion covers, and many more.
Material for baby crochet cap
Loop Yarn- 50 Gram
Crochet Hook- For making this baby crochet cap, I've used a crochet hook, specifically designed for pulling one loop through another. You can use any size of crochet hook for this purpose.
Optional- Measuring tape, Pom Maker & Sewing Needle.
Loop Yarn Baby Crochet Cap Pattern
Size- Here, I've crocheted a cap for a child aged 1 to 3 using fine loop yarn.
Skill- Beginners to advance.
I've shared a Crochet Cap Pattern before, which was a square-eared cap designed for babies. The loop yarn cap, I'm about to share with you is round and made with fine-loop yarn. In this guide, I've explained how to create this cap with fine loop yarn, suitable for people of all ages.
To crochet a baby cap using loop yarn, start by forming a lengthy chain. The chain's length should be determined by the circumference of the individual's or child's head for whom the cap is being made.
To make a chain with loop yarn, you have to pull one loop through another loop using a Crochet Hook.
After reaching the specified length of the chain, it's time to shape the cap. To do this, take the last loop of the chain and pull it through the very first loop we made. This step is critical, and it must be done with great care to ensure the cap doesn't end up crooked.
For crocheting the baby cap, we should pull each loop of the yarn we're using through every loop in the formed chain. As we continue this process and complete a round, it will look like stitches neatly sewn in, similar to the way you'd see in a seam made with a needle.
In the same manner, as we've finished one round, we should proceed to complete the entire length of our cap.
To finish the cap, we'll close it up. For this, we'll pull a loop of the working yarn ( The yarn used for knitting) through one loop inside the cap. Then, we repeat this process, pulling a loop of the working yarn through one loop inside the cap, until only around 10 to 12 loops are left in the cap.
Next, we'll secure the 10 to 12 remaining loops. To do this, we'll carefully cut the loop of the working yarn, ensuring only the loop unravels.
After that, we'll cut the yarn, thread it through a sewing needle, and secure the remaining loops inside the cap. Finally, we'll add a Pom Pom to the cap.
Baby Crochet Cap Video Tutorial
I trust that you've found this Loop Yarn Free Crochet Cap Pattern enjoyable. If you have any crochet or knitting-related suggestions or questions, please don't hesitate to comment. You're also welcome to share your Knitting & crochet projects on our Facebook group.
Additionally, if you're interested in watching fresh knitting tutorials, you can connect with us through our YouTube channel. To get started, just hit that subscribe button on our channel.
Baby Crochet Cap FAQ
Can you crochet with loop yarn?
Yes, we can. I crochet and shared a baby cap using a crochet hook